Thermodown 15 Sleeping Bag
$ 139.99
$ 0.00
Stay warm and comfortable in our outstanding Thermodown 15 down backpacking sleeping bag. It's perfect for 3-season camping or backpacking, while being lightweight and compact enough to find a spot in your pack.
Product Detail
Stay warm and comfortable, no matter the weather, in our outstanding Thermodown 15 down sleeping bag. With excellent materials and performance, your search for a great sleeping bag ends here! 
Superior Insulation
Cold weather is no match for the 28 oz. of 600-fill power down insulation stuffed into every corner of this bag. You will stay toasty warm down to 15F (-10C). However, the added warmth does not compromise on size and weight. The bag packs down to just 11 x 7 inches and comes in at only 2 lb. 14 oz.

Benefits
We've done our best to make this a great bag.
On warm nights, easily shed heat with the large two-way YKK zipper which opens from top and bottom. 

To prevent annoying snags, we've incorporated a wide zipper guard. 

To keep the heat in, a large draft collar automatically wraps around your neck. No need to deal with cumbersome drawstrings or scratchy velcro. The fully insulated and contoured hood can also be completely cinched down. 

A roomy trapezoidal foot box with extra insulation will keep your toes nice and warm. 
Accessories
The bag comes with a durable compression sack allowing you to easily fit the bag into your pack. Between adventures, use the included mesh storage bag or hanging loops to properly store the bag.
Tech Specs
Size (Short): 74 inches by 31 inches, comfortably fits adults up to 5'6"
Size (Regular): 80 inches by 31 inches, comfortably fits adults up to 6'0" 
Size (Long): 86 inches by 33 inches, comfortably fits adults up to 6'6" 
Weight (Short): 2 pounds 12 ounces
Weight (Regular): 2 pounds 14 ounces
Weight (Long): 2 pounds 15 ounce
Insulation Material: 600 fill-power 80/20 white duck down
Fill Weight (Short): 26 ounces
Fill Weight (Regular): 28 ounces
Fill Weight (Long): 28 ounces
Packed Size: 11 inches long by 7 inches in diameter
Shell Material: lightweight and durable 20D ripstop nylon 
Interior Lining: breathable 320T polyester pongee
FAQs
How do I care for my new down sleeping bag?
When you first receive the bag, run it in the dryer at the low-temperature or air fluff setting for about 10 minutes to loosen up the down that has been compressed during the shipping process.
When heading out on the trail, use the included compression sack to protect the bag and also reduce the amount of space it takes up in your pack. Use care when stuffing the bag into the compression sack.
Between trips, always store your bag using the included mesh storage sack or the hanging loops.
Always wash your bag by hand or a front-load tumble washer. Never use a top load washer. Never use bleach. 
For more detailed care instructions, including how to make repairs, please review our complete guide.
How do you determine the temperature rating?
We've put together an in-depth article on how we determine our temperature ratings. The guide also provides lots of helpful advice regarding making an informed decision.
How can I increase the temperature rating of my sleeping bag?
If you'd like to use our down bag at temperatures of 15 degrees and below, you may consider adding a sleeping bag liner to add about 10 degrees to the warmth rating. The Sea to Summit Thermolite Sleeping Bag Liner is a great option.
Reviews
Customer Reviews
09/16/2020
Bryan S.

United States
Incredible bag
I bought this bag way back in 2017 as a replacement for a 12 year old Mountain Hardwear bag. I didn't want to spend a lot but needed high end performance and features, I found this bag and decided to give it a shot. Fast forward 3 years and I can't say enough good things about it. I've used it in every condition imaginable from sleeping on top of it in the summer heat to near zero backcountry bivy excursions and it's outperformed it's value many times over. For the money you get a fairly light down bag that compresses pretty well and is made of durable materials. I've slept comfortably (with a liner) in temps well below the 15 degree rating and even got to test the waterproofing when my dog couldn't hold it one night and peed on it. The only downside is that it does bleed some down pretty regularly, but every piece of down equipment that I own bleeds some of it's feathers. If you're in the market for a new bag, just buy this one already and use the money you'll save on adventures.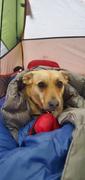 12/18/2020
John W.

United States
Almost too warm
Great quality product with an affordable price. Now deciding on which other new products to buy. Your walking poles two years old are amazing at half the cost.
12/16/2020
George A. Samec

United States
appears good so far
Bought two sleeping bags for my sons for Christmas. They appear very well made and really fluff up when taken out of stuff sack. Seems like a good buy. i can say more after they have been used.
Warranty
All of our products come with a limited lifetime warranty against manufacturer defects. If there is a problem with your gear due to manufacturing, we will replace it free of charge, no questions asked. If you have any concerns about your product, please contact us at: support@pariaoutdoorproducts.com.
When contacting us for a warranty claim, please include:
The specific product, including size or length

Your original order number

Your current shipping address
We pride ourselves on our courteous and responsive customer service. We'll do our best to make sure all of our customers are happy with their purchase.
Shipping
We offer three shipping services within the United States:
Free Standard Shipping = 3-5 Day Ground Shipping

$6 Expedited Shipping = 2-3 Day Express Shipping

$15 Priority Shipping = 1-2 Day Express Shipping
We also offer Economy shipping to Canada, Australia, New Zealand, and Japan, which includes all duties paid. Typical delivery times to Canada are 5 to 10 business days, while Australia, New Zealand, and Japan delivery times are 10 to 15 business days.
Finally, for customers in the UK and EU, please visit our EU store.