Breeze Mesh Bivy
$ 59.99
$ 0.00
Looking for a perfect ultralight bug shelter? Look no further than our Breeze Mesh Bivy! When paired with a lightweight backpacking tarp, such as our tapered Sanctuary Siltarp, you'll have a 23-ounce shelter that is one of the best values in ultralight backpacking.
Product Detail
Our Breeze Mesh Bivy is the perfect one-person ultralight shelter when paired with a lightweight backpacking tarp, such as our Sanctuary Siltarp (sold separately). The mesh canopy provides a layer of defense against pesky insects and critters, while the 9-inch tub style floor will keep you and your gear dry during even the wettest storms. While the sides are mesh, the front and back are made from solid rip-stop nylon, providing good wind protection and privacy.
Use just the Breeze Mesh Bivy on clear days for great ventilation and an incredible way to experience a night in the outdoors. When inclement weather approaches, pitch the Sanctuary Siltarp over the bivy to provide the needed protection from wind and rain. The Breeze Mesh Bivy and our tapered 10 x 7/5 foot Sanctuary Siltarp combine to just 23 ounces, making this combo one of the best values in ultralight shelters.
Please note that additional supports will be needed to pitch the Breeze Mesh Bivy. Use nearby trees, our adjustable tarp poles (sold separately), or your favorite trekking poles as potential supports.
Tech Specs
Seasons: 3
Size: 84-inch length x 33-inch width at head, tapering down to a 31-inch width at feet
Peak Height at Head: 25 inches
Bivy-Only Weight: 13 ounces
Total Weight: 16 ounces (includes lines, stakes, and stuff sacks)
Packed Size: 9-inch length by 3-inch diameter
Capacity: 1 persons
Fabric, canopy: 20D no-see-um fine mesh
Fabric, floor: 30 Denier ripstop silnylon has a silicon/PU dual-coating and fully taped seams, providing 5,000 mm of hydro-static resistance
Design Type: non-freestanding
Doors: single 3/4 length zipper entry on ridgeline
Accessories: two (2) lengths of 1.5 mm reflective Dyneema® guy line, six (6) 7075 aluminum alloy Y-stakes with Dyneema® pull cords
Stuff Sacks: two rip-stop nylon stuff sacks (one for accessories, one for whole kit)
FAQs
How do I care for my bivy?
For detailed care instructions, including how to clean, maintain and make repairs to your bivy, please review our complete guide.
Video Reviews
Reviews
Customer Reviews
11/23/2020
Susan S.

United States
Learning curve but worth it
I am a hammock camper but a hammock is not always the best choice, for example hiking across Scotland I needed a bivy. The one that I used on that trip was suffocating. That led me to research options for a less constricting bivy. The Breeze Mesh Bivy is the perfect product. You do not have to slide into it or suffocate. I used it numerous times throughout the summer - with and without a tarp. I came back to pick up another one so that next summer I will have one for friends who want to camp. There is a learning curve for getting in and out but once you find the method - loosen the tension on the head end so you can just ease up and move forward out of the bivy - you will be very happy. I am sad that they are out of stock.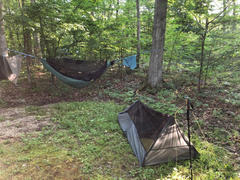 06/22/2020
Jessica M.

United States
Mesh Breeze Bivy
I've used this for just a few nights so far, but I'm loving it. My son now wants to use a hammock, so I needed to find a lightweight solo "tent" option, and I decided to try this bivy with a tarp. I love the top entry zipper, so even under a low slung tarp, I can loosen the line locks and drop the mesh down flat and get in comfortably. The bivy is definitely not tall - you cannot change your clothes or sit up inside it, but it is NOTHING like other bivies that are cocoons. I'm a claustrophobic person, but this bivy does not bother me at all. The mesh allows lots of air to flow through in the summer, and I have the flexibility to set up my tarp higher on a night that I'm not worried about wind/rain. When I am worried about rain and wind, I can tighten up my tarp and be more contained when needed. The bathtub walls are nice and high, and the lower tie-outs work well. It can be tricky to get the upper corner tie-outs staked out perfectly, especially under a tarp. I do not have a Paria tarp, so maybe it would be easier with a Sanctuary Siltarp. I have set up my bivy with trekking poles and with trees....with and without a tarp when the weather deems it necessary. I use a piece of polycro or a groundcloth from another tent that I already own underneath. Some of my friends scoffed at my bivy because of the weight (they gram weenies), but for the price ($60ish) it is a great buy and not heavy at all. I'm not interested in sleeping under a tarp with no protection from bugs and snakes, and this is the perfect compromise. I would highly recommend this piece of gear!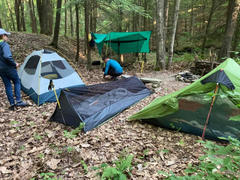 04/12/2020
william p.

United States
no bug bivy
haven't got to use it yet but set it up in yard and was everything i had hoped it would be...good quality stuff from a good company...orders are always on time
Warranty
All of our products come with a limited lifetime warranty against manufacturer defects. If there is a problem with your gear due to manufacturing, we will replace it free of charge, no questions asked. If you have any concerns about your product, please contact us at: support@pariaoutdoorproducts.com.
When contacting us for a warranty claim, please include:
The specific product, including size or length

Your original order number

Your current shipping address
We pride ourselves on our courteous and responsive customer service. We'll do our best to make sure all of our customers are happy with their purchase.
Shipping
We offer three shipping services within the United States:
Free Standard Shipping = 3-5 Day Ground Shipping

$6 Expedited Shipping = 2-3 Day Express Shipping

$15 Priority Shipping = 1-2 Day Express Shipping
We also offer Economy shipping to Canada, Australia, New Zealand, and Japan, which includes all duties paid. Typical delivery times to Canada are 5 to 10 business days, while Australia, New Zealand, and Japan delivery times are 10 to 15 business days.
Finally, for customers in the UK and EU, please visit our EU store.