Titanium Long Polished Spoon
$ 11.99
$ 0.00
If you've ever eaten a dehydrated camping meal, you'll know exactly why our long, polished, ultralight backpacking titanium spoon is the perfect solution! They are long enough to reach all the way down, while keeping your hands nice and clean. Titanium is also extremely durable and lightweight (each spoon weighs only 0.6 ounces).
Product Detail
If you've ever eaten a dehydrated meal in the backcountry, you know what a mess they can be with a typical spoon. That's why you need our long spoon. It's the perfect length for a mess-free experience!
The other major pain is cleaning stuck on cheese or grease off a matte finish. Backcountry lakes and rivers are cold, which makes cleaning dishes pretty tough. Our polished finish solves that problem by making clean up easy. It also feels a lot more comfortable in your mouth, exactly like your silverware at home.
Finally, we chose pure titanium for a strong and durable spoon that will last you for decades. Titanium is also corrosion-resistant and will not absorb food odors or smells.
Our polished titanium spoon is perfect for your next backcountry meal!
Tech Specs
Material: Pure GR2 polished titanium
Weight: 18 grams / 0.6 ounces
Length: 8.5 inches
Bowl Size: 1.5 inches
Reviews
Customer Reviews
09/16/2020
John P.

United States
Right size and shape
I just wanted a camping spoon long enough to reach to the bottom of a Mountain House or freezer bag meal without getting food on my fingers. This was the right price for titanium so I went for it. The nice surprise is the slightly square shape. It helps in digging out every last tasty morsel!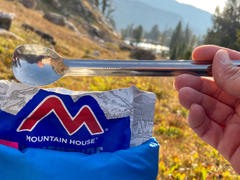 02/08/2020
John M.

United States
12/11/2020
John P.

United States
Gave them as gifts!
I first bought the spoon and was really happy with the weight and length (no more Mountain House on my knuckles)! So, I decided to invest in a spork too (so helpful for noodles). Since then, I have given a set to three people and they love them, too. A great product and worthwhile investment!
Warranty
All of our products come with a limited lifetime warranty against manufacturer defects. If there is a problem with your gear due to manufacturing, we will replace it free of charge, no questions asked. If you have any concerns about your product, please contact us at: support@pariaoutdoorproducts.com.
When contacting us for a warranty claim, please include:
The specific product, including size or length

Your original order number

Your current shipping address
We pride ourselves on our courteous and responsive customer service. We'll do our best to make sure all of our customers are happy with their purchase.
Shipping
We offer three shipping services within the United States:
Free Standard Shipping = 3-5 Day Ground Shipping

$6 Expedited Shipping = 2-3 Day Express Shipping

$15 Priority Shipping = 1-2 Day Express Shipping
We also offer Economy shipping to Canada, Australia, New Zealand, and Japan, which includes all duties paid. Typical delivery times to Canada are 5 to 10 business days, while Australia, New Zealand, and Japan delivery times are 10 to 15 business days.
Finally, for customers in the UK and EU, please visit our EU store.